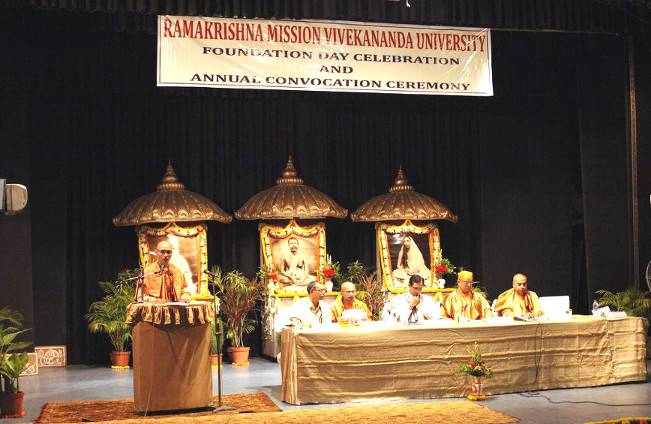 12th Convocation & Annual Foundation Day at Narendrapur Campus – 4 July 2017
The 12th Convocation and Annual Foundation Day Celebration were held on 4th July 2017 at the the Central Auditorium of Ramakrishna Mission Ashrama, Narendrapur, Kolkata, an approved 'off-Campus' Centre of the University. The University's Main campus at Belur, Howrah along with the Narendrapur Campus of the University took part in the event.
Our special guest on this occasion was Dr. Trilochan Mohapatra, Secretary, Department of Agricultural Research and Education, and Director General, ICAR, Govt. of India. Dr. Trilochan Mohapatra delivered the convocation address. Swami Sarvalokananda ji, Secretary of Ramakrishna Mission Ashrama, Narendrapur delivered the 'Swami Vivekananda Memorial Address'.
Swami Atmapriyananda ji and Dr. Trilochan Mohapatra awarded the degrees and diplomas to the students at the Convocation.
Some of the photos of the day are given below.