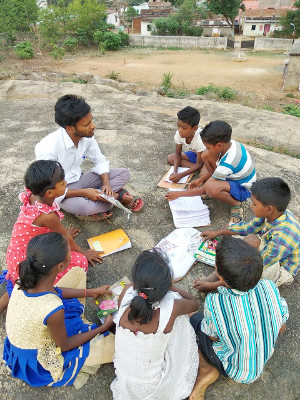 Ranchi ARTD: Rural Development & Community services
The following are the outreach activities organized by the Faculty Center for Integrated Rural and Tribal Development and Management (IRTDM) operating from the Ranchi campus of RKMVERI.
The Joy of Serving: Free Tuition Classes
"Joy of Serving" refers to the free tuition classes that are being conducted by students of IRTDM, starting in 2018. Typically, the classes are conducted on six evenings of the week and managed by 4-5 students of IRTDM. The classes are are usually attended by about 50-55 students from nursery level to class VIII.
Swatch Bharat Summer Internship
During two weeks of summer, students of IRTDM visit a rural area in Jharkhand and organize swachata awareness campaigns including street plays, door-to-door meetings, village or school level rallies, waste collection and segregation drives, cleaning of streets and drains, construction of toilets, impact survey etc. The programme was initiated in 2018 with a visit to the Beti village in Ranchi district which benefited hundreds of families.
Rural Living and Learning Experience (RLLE)
Every year, final year undergraduate and first year post graduate students of IRTDM spend about 15 days in different villages in Jharkhand participating in the day-to-day activities of villagers. During the time spent with the farmers, the students try to impart the knowledge of modern technology and techniques to the farmers and at the same time get the opportunity to understand the major difficulties faced by the rural and tribal communities of the area. The programme therefore aims to combine curricular education with service to the society.
Blood Donation Camp
Every year, during the week of National Youth Day celebrations (12 January), the students of IRTDM organize Blood Donation Camps in collaboration with Rajendra Institute of Medical Sciences (RIMS). The programme involves the active participation of students, faculty, staff and monastic members of IRTDM in the blood donation.