Members of Sponsoring Society of Ramakrishna Mission Vivekananda Educational and Research Institute (RKMVERI)
( Composition of the Governing Body of Ramakrishna Mission with Headquarters at Belur Math, which is the Sponsoring Society of RKMVERI (Deemed University)  )
| | | |
| --- | --- | --- |
| 1. | Swami Smaranananda | President |
| 2. | Swami Gautamananda | Vice-President |
| 3. | Swami Prabhananda | Vice-President |
| 4. | Swami Suhitananda | Vice-President |
| 5. | Swami Suvirananda | General Secretary |
| 6. | Swami Balabhadrananda | Assistant General Secretary |
| 7. | Swami Bodhasarananda | Assistant General Secretary |
| 8. | Swami Tattwavidananda | Assistant General Secretary |
| 9. | Swami Satyeshananda | Assistant General Secretary |
| 10. | Swami Girishananda | Treasurer |
| 11. | Swami Achyuteshananda | Member |
| 12. | Swami Bhajanananda | Member |
| 13. | Swami Divyananda | Member |
| 14. | Swami Jnanalokananda | Member |
| 15. | Swami Jnanavratananda | Member |
| 16. | Swami Lokottarananda | Member |
| 17. | Swami Muktidananda | Member |
| 18. | Swami Sarvabhutananda | Member |
| 19. | Swami Vimalatmananda | Member |
Administrative Structure of RKMVERI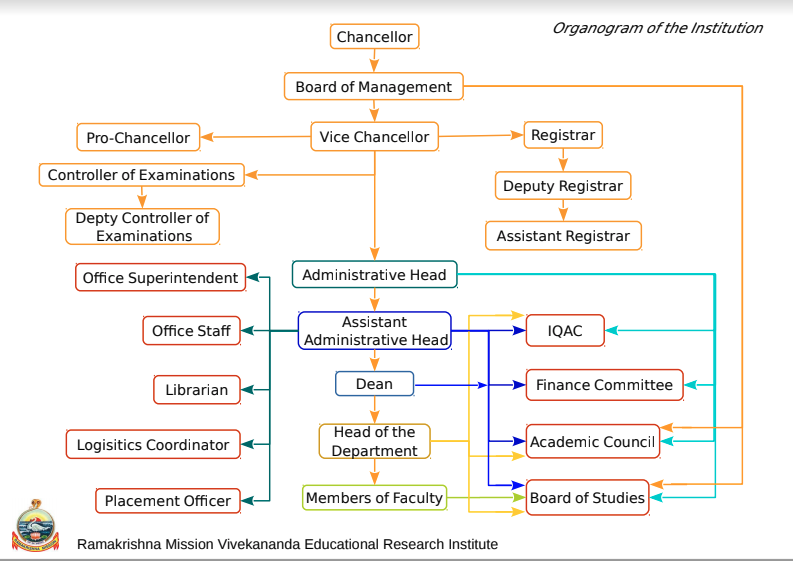 Belur Math houses the headquarters of the Ramakrishna Math and Ramakrishna Mission (RKMM), under whose guidance and overall administrative control all the branch-centres of RKMM function. The actual implementation of policies adopted by the headquarters as well as activities flowing therefrom are for the most part supervised by the heads of branch centres who are appointed by the headquarters.
Consistent with this administrative structure, Ramakrishna Mission Vivekananda Educational and Research Institute (RKMVERI), with its head office located at its Belur Math campus, is administered through the following tiers: The Chancellor, being the General Secretary of RKMM ex-officio, is at the helm of affairs of the university as the President. The Chancellor's Representative, who is an Assistant Secretary at the headquarters of RKMM, is to be the second-in-command to assist the Chancellor in the administration of the University. The Vice Chancellor, who will usually be a qualified and competent monk of the Ramakrishna Order, appointed according to University Grants Commission (UGC) guidelines, will be in charge of the day-to-day administration of the University and all its academic programmes and activities. Administrative Heads of the various off-campus faculty centres of the university, who will be the ex-officio heads of the branch-centres in which the faculty centres are located, will be in charge of the day-to-day administration of the respective faculty centres.
Chancellor (ex-officio): Swami Suvirananda, General Secretary, Ramakrishna Mission
Pro-Chancellor: Swami Atmapriyananda, Secretary, RKMVERI Centre, Belur Math
Board of Management reconstituted as per UGC's revised Regulations (in Gazetted Notification dated 20 February 2019, vide Section 10.05).
Effective from 22 August 2021.
1
Vice Chancellor
Swami Sarvottamananda
Chairperson
2
Two Deans of Faculties (by rotation based on seniority)
Dr. N. Muthaiah
Dean, Faculty of Disability Management and Special Education (FDMSE), Coimbatore Campus
3
Prof. Tapash Dasgupta
Dean, Faculty of Integrated Rural Development and Management (IRDM), Narendrapur Campus
4

Three eminent academicians as nominated by the Chancellor

Dr. Bimal Roy
Former Director, Indian Statistical Institute (ISI), Kolkata and Presently Head, RC Bose Centre for
Cryptology and Security, ISI, Kolkata, & Chairman, National Statistical Commission, Ministry of Statistics and Programme Implementation, Government of India
5
Prof Shrinivas Varakhedi
Vice Chancellor, Kaviguru Kalidas Sanskrit University, Ramteck, Maharashtra
6
Dr Santanu Kumar Bandyopadhyay
Former Animal Husbandry Commissioner, Department of Animal Husbandry, Dairy and Fisheries, Ministry of Agriculture, Government of India
7
A representative of the UGC
–
Yet to receive the name from UGC
8

Two teachers (from Professors, Associate Professors) by rotation based on seniority

Prof. Sukumar Adhikari
Senior Professor, Dept of Maths, RKMVERI
9
Dr. Abhijit Bandyopadhyay
Associate Professor, Dept. of Physics, RKMVERI
10
Maximum of four nominees of the sponsoring Society
Swami Bodhasarananda
Assistant General Secretary, Ramakrishna Mission, Belur Math
11
Swami Atmapriyananda
Pro-Chancellor and Secretary, RKMVERI
12
Sri Sunil Kumar Barnwal, IAS
Former Principal Secretary to Chief Minister, Jharkhand Government and Presently Joint Secretary, Department of Home Affairs, Government of India
13
Dr. A. Santhosh Mathew, IAS (Retd.)
Former Chairperson of National Council of Teacher Education (NCTE) and Former Joint Secretary, Ministry of Rural Development, Government of India
14
Registrar
Swami Kirtipradananda
Ex-officio Secretary of Board of Management