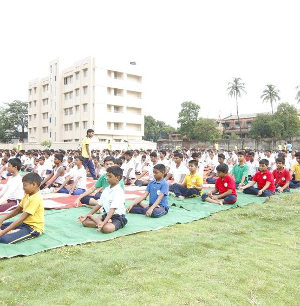 Outreach Programme in Yoga for Health & Wellbeing
Outreach Programme in Yoga for Health and Wellbeing (OPY) is conducted by the Department of Sports Science and Yoga at the Main (Belur) campus of RKMVERI. This programme seeks to popularize the study and practice of Yoga among the public and places special emphasis on the beneficial effect of Yoga on the health and wellness of the practitioners.
Programme Details
The programme involves sessions that are held three days a week over a period of six months, with course content developed in accordance with UGC guidelines. Fresh batches of applicants are accepted every three months, and application is currently open to male candidates of all age groups.