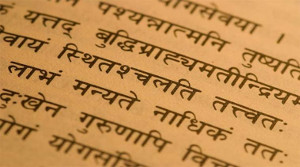 Sanskrit for all
The Department of Sanskrit & Philosophy under the School of Indian Heritage, RKMVERI conducts series of programmes to teach Sanskrit and a little of the treasures of wisdom of the Sanskrit literature as a outreach activity to people of all age groups and all walks of life. These programmes start from the preliminary level, and are taught to people of all age groups and all walks of life, and on Sundays so as to enable working people also to enrol for the programmes.
Programme Structure
Communicative Sanskrit is a three-­tier programme consisting of the following stages:
Preliminary : alphabet, sentence construction, spoken Sanskrit.
Intermediate :­ basic grammar, Gita and Upanishad chanting with meaning.
Advanced : higher grammar, selections from literature, composition.
Details of the Programme
For whom: Any one who yearns to learn Sanskrit from the beginning may apply
Age limit: No upper limit
Eligibilty: Madhyamik (10th class) pass
Class timings: Every Sunday  9.30 am to 1.30 pm (20 minutes break in-between)
Fee: Rs.1000/-
Essentials : Regularity and Punctuality
Medium of instruction: Bengali
Duration: 6 Months (Jan-June, Jul-Dec)
Programme Highlights
Personal attention: Personal attention will be given to help students get over the difficult areas.
Practical lessons: Assignments and exercises will be given and each student will be individually monitored.
Pronunciation sessions: Thorough training in the science of pronunciation coupled with several practical sessions.
Certificate: Certificate will be given only to those who have 85% class attendance and pass in the examination at the end of the programme.
Entry to the Intermediate Programme: Students with 60% or more marks in the Preliminary programme examination will be eligible for the next level of learning – The Intermediate Programme wherein more grammar and language skills shall be taught.