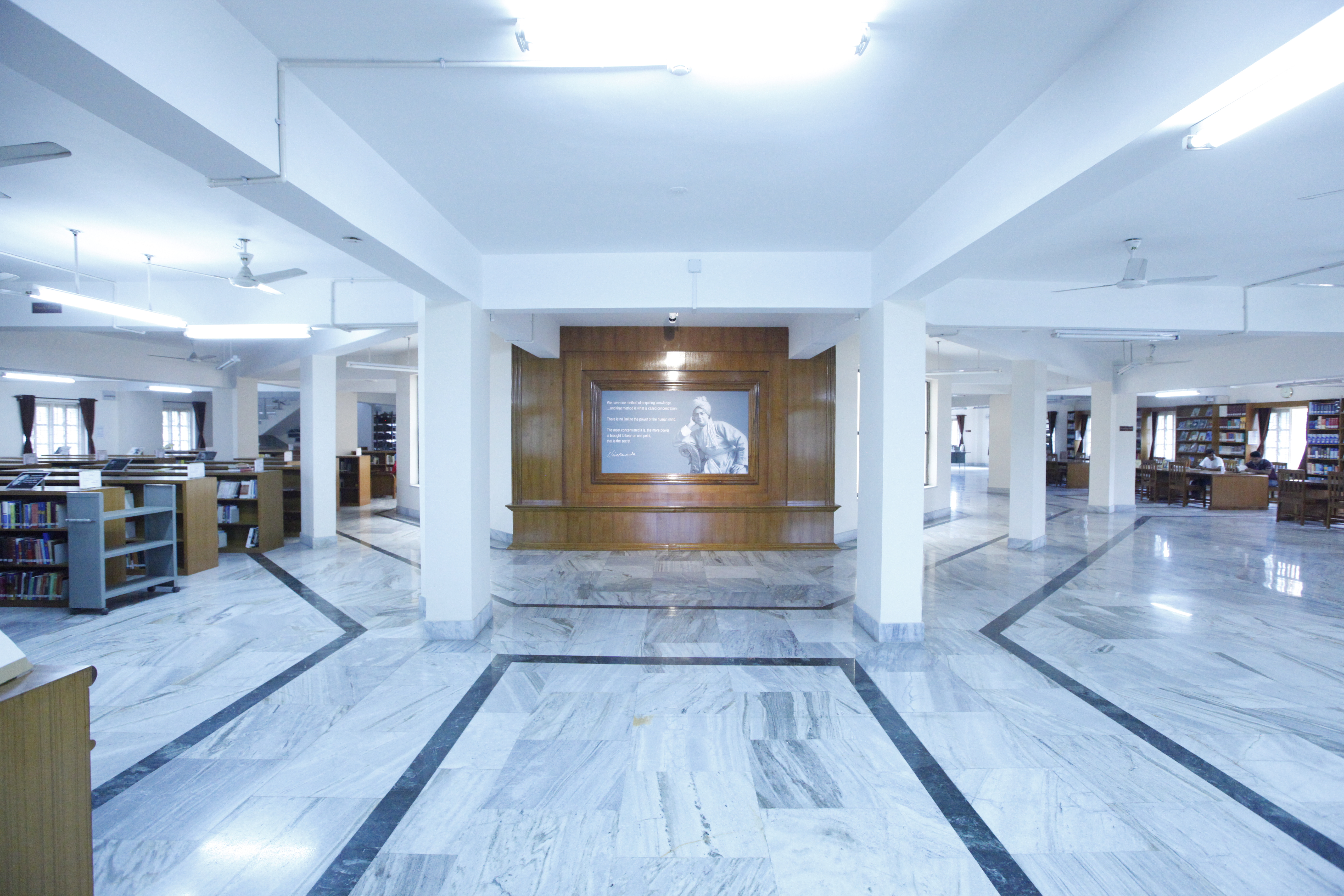 The RKMVERI Central Library (at Belur Main Campus) was opened in the year 2005. It was established to accommodate the needs of modern research, housing printed materials and a virtual library. Presently the library has a total of 41,887 books (General and Reference).
Central Library has subscription to 11 international full text e-resources, namely, APS (15 journals) and one database MathSciNet, and registered to SAA for e-books with the help of the 'UGC-INFONET Digital Library Consortium' (now 'e-Shodh Sindhu Consortium'). Central Library has also taken membership of DELNET for e-journals and  'Down to Earth' e-magazine (access to its e-resources is IP-based).
Details of Subscriptions / Memberships:
| | | | | | |
| --- | --- | --- | --- | --- | --- |
| Details of memberships | Details of subscriptions | Name of service subscribed to | No of e-resources with full text access | Validity period | Whether remote access provided? (Yes / No) |
| APS | Annual | e- journal | 15 | 1 Year | No |
| MathSciNet | Annual | e- journal | 1 Database | 1 Year | No |
| DELNET | Annual* | e- journal | 5000+ | 1 Year | No |
| SAA | Annual* | e-book | 4.5 million pages | 1 Year | No |
| DownToEarth | Annual* | E-magazine | full text access | 3 Years | YES |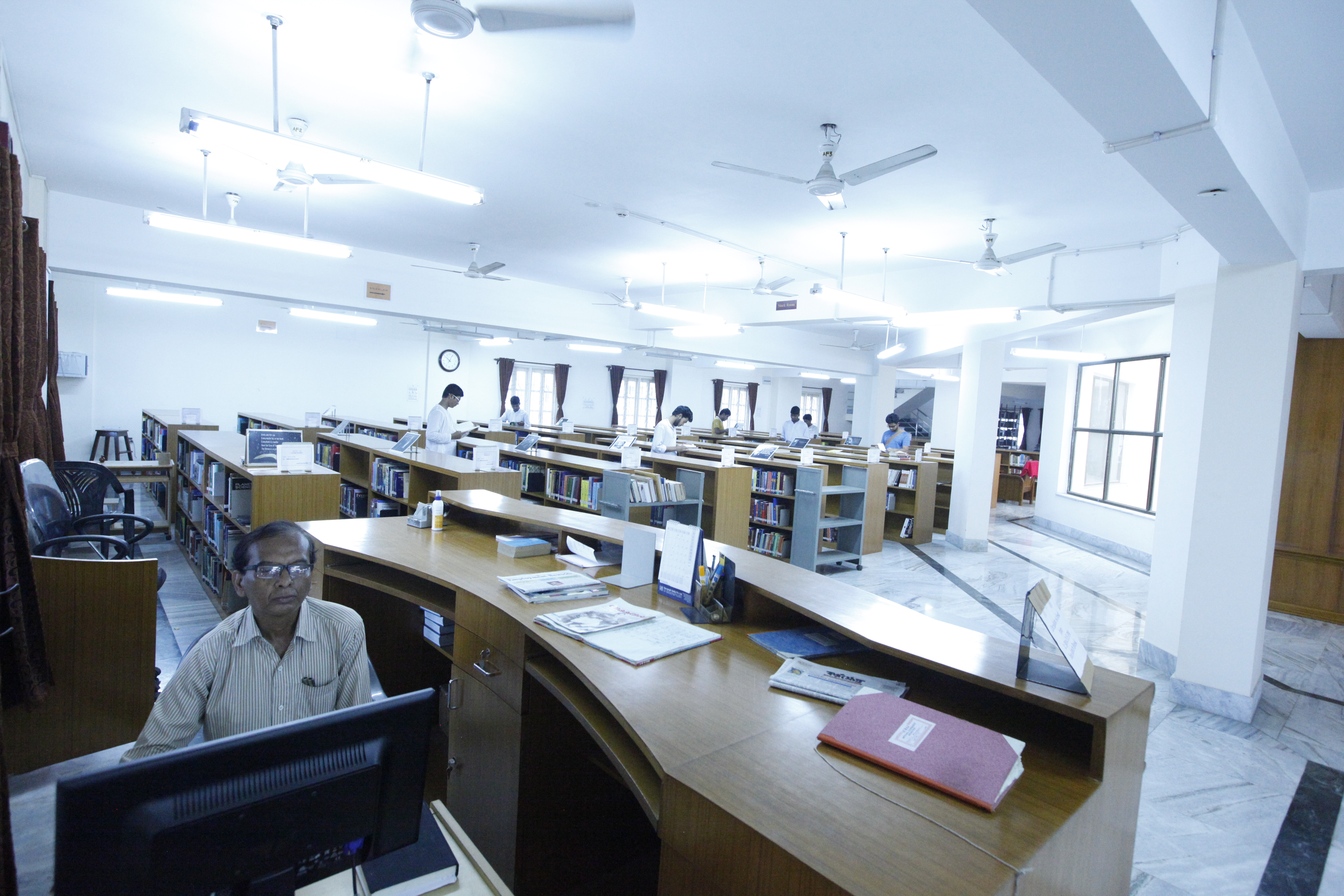 Other relevant information:
Total no. of books that students can borrow from the Central Library:
MSc (1st yr & 2nd yr) – Big Data Analytics (BDA), Computer Science, Mathematics, Physics: 5 Books
MSc (1st yr & 2nd yr) – Sports Science & Yoga: 4 Books
MPhil & PhD – All subjects: 5 books
MSc/MA and PG Diploma in Yoga: 2 books
Integrated MA in Sanskrit: 25 books (maximum) at a time, and they can keep them for up to 6 months.
Some notable points regarding the Central Library:
About 14 computers (with Internet connection) are dedicated for the use of students at any time during the library hours (9:30 am to 9:00 pm).
With the online catalogue (http://lib.rkmvu.ac.in/), users can search for books from anywhere around the world and can check whether or not a particular book is available.
Since we have an open access policy, students, researchers, and faculty members are able to browse the shelves themselves and select the books they want.
Since we issue books with the bar code scanner, there is almost no wait time for issuing books.
A noise free reading zone has been established for the students in the library.
A new Career Guidance Section (GATE/NET/JRF etc) has been introduced for the benefit of students, from which they may issue one book from their own quota.
Floor area of the Central Library: 2 floors, each of which is 30m x 30m (i.e. 900 sqm).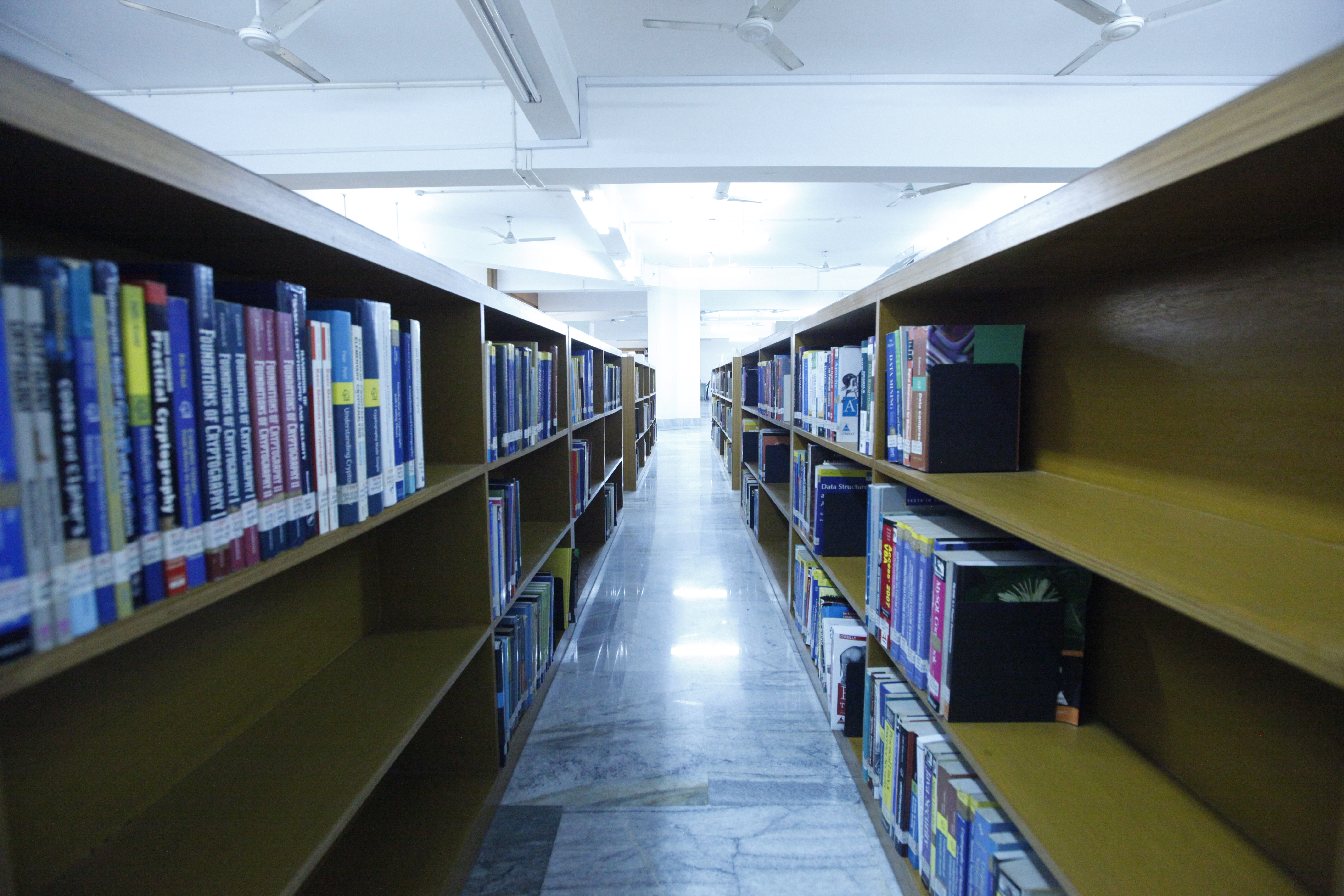 Details of modern technologies deployed in the library (like the detector in the main entrance):
RFID and Bar Code technology for streamlining the circulation process, and a user friendly KOHA library management software for easy searching.
Detail of any special types/categories of books or content:
We have 838 rare books on Sanskrit, Philosophy & Religion yet to be catalogued, 129 manuscripts and 352 CD/DVD. We have initiated NPTEL program to facilitate the students e-learning through online Web and Video courses of various streams. There is a new facility started for our users to get remote access of EBSCO e-books (1,70,000+) and a magazine namely 'DownToEarth'.
The facilities recently introduced (2020 & 2021) in the Central Library:
Separate Reference section with 1027 books
Reading room which accommodates 58 users at a time,
Six more computers (Total – 14) for surfing the internet,
Installation of RFID and Bar code technology for quick automated circulation to save time for users,
Installation of Smoke detector with alarm & Fire extinguisher.
Interior decoration with window curtains.
Modernization of the Information/Circulation Desk.
To inspire students, we have placed a portrait of Swami Vivekananda with quotation at the entrance to the library.
Placement of Low height(3'6") book racks to allow users to get more space, natural air and light.
Photocopier cum printer & scanner machine as well as a special high quality scanner installation.
Filtered drinking water service is available near the entrance to the library.
Career Guidance Section to provide books and other relevant materials to the students to prepare for competitive exams.
Automated Library entry is now very time-efficient. To enter the Library, users do not need to sign in manually. Users just have to show their University ID cards (RKMVU) at the entrance.
New books are being displayed at the New Arrival Section to generate interest in users.
The Online Public Access Catalogue (OPAC) informs users of the availability of books and other library resources. Users can search for books through the KOHA library management software
Printed periodicals / journals section have been introduced.
Library extended to the 2nd floor to provide more free space and to provide extra study space for students.
Comfortable seating arrangement has been provided inside the stacks area for individual study.
For the need of the users a Property counter has been introduced.
WIFI / Internet facility available inside the  library.
The facilities planned to be implemented in the near future:
To attract users, databases and e-resources will be linked to the Home Page of the University Website.
Lounge Area for students & faculty members to sit and discuss academic topics in a relaxed way.
Digital Library Section for users to access information on WWW, E-resources, etc.
In the Central Library, air-conditioners will be installed to offer conducive environment for the readers as well as a controlled environment for the invaluable books to be preserved.
Electronic screens at the entrance of the Central Library to display newly procured books.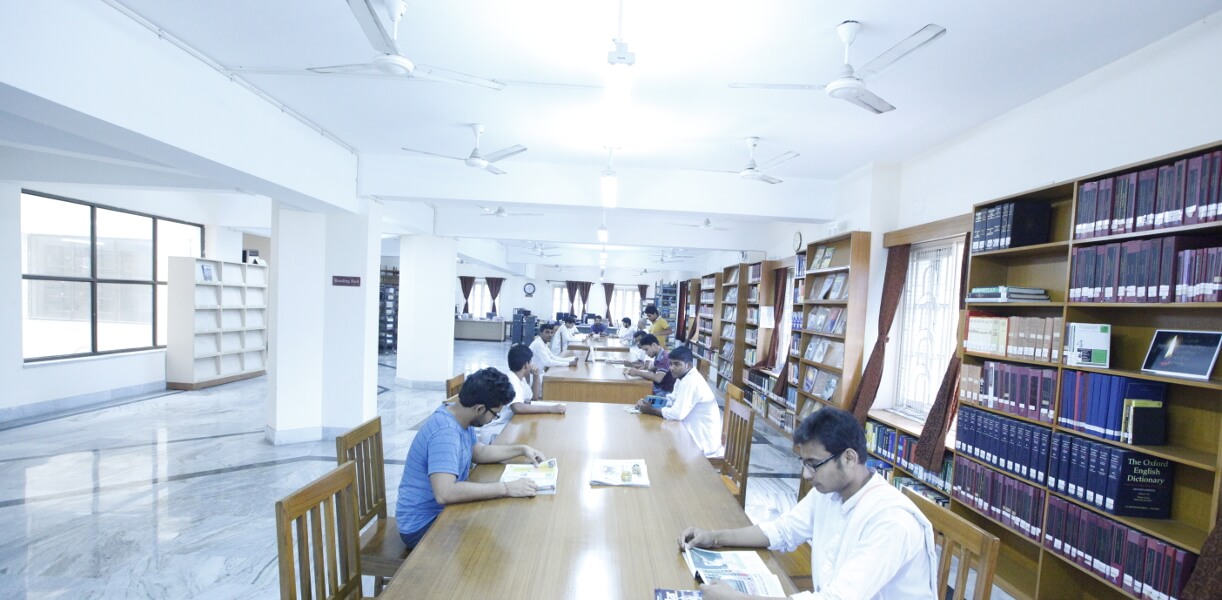 List of Printed Magazines subscribed (as of academic year 2021-22):
| Name of the Magazines | Language | Periodicity |
| --- | --- | --- |
| Competition Success | English | Monthly |
| Current Affairs | English | Monthly |
| Competition in Focus | English | Monthly |
| Pratiyogita Darpan | English | Monthly |
| Employment News (Newspaper) | English | Weekly |
| Karmakshetra (Newspaper) | Bengali | Weekly |
| Safalya | Bengali | Monthly |
| Peshapravesh | Bengali | Monthly |
| Reader's Digest | English | Monthly |
| Sportstar | English | Weekly |
| Jnan O Vijnan | Bengali | Monthly |
| Kishor Jnan Vijnan | Bengali | Monthly |
| Kishor Bharati | Bengali | Monthly |
| Bhraman | Bengali | Monthly |
| Baier Desh | Bengali | Quarterly |
| Anandamela | Bengali | Fortnightly |
| Udbodhan | Bengali | Monthly |
| Prabuddha Bharata | English | Monthly |
| Vedanta Keshari | English | Monthly |
| Vivek Jyoti | Hindi | Monthly |
| Samaj Shiksha | Bengali | Monthly |
| Nibodhata | Bengali | Bimonthly |
| Samvit | English | Semi-annual |
| Sambhashna Sandeshah | Sanskrit | Monthly |
| Rasana | Sanskrit | Monthly |
| Down To Earth(print + online) | English | Monthly |
| Electronics for You | English | Monthly |
| Science Reporter | English | Monthly |
| Desh | Bengali | Monthly |
List of e-Journal subscriptions:
| Name of the Journals | Language |
| --- | --- |
| APS | English |
| DELNET | English & Sanskit |
| ANWESH: International Journal of Management & Information Technology | English |
| International Journal of Information Studies and Libraries | English |
| Social Work Chronicle | English |
| International Journal of Business Analytics & Intelligence | English |
| International Journal of Distributed & Cloud Computing | English |
| Journal of Network & Information Security | English |
| International Journal of Knowledge based Computer System | English |
| Journal of Scientific and Technical Research | English |
| Journal of the Ramanujan Mathematical Society | English |
List of Printed Journal subscriptions :
| Name of the Journal | Language | Period |
| --- | --- | --- |
| Anantaa : Sanskrit Journal | Hindi & English | Bi-monthly |
| Bhavan's Journal | English | Monthly |
| Current Science | English | Fort-nightly |
| Resonance | English | Monthly |
| Science & Culture | English | Bi-annual |
| ANWESH: International Journal of Management & Information Technology | English | Bi-annual |
| International Journal of Information Studies and Libraries | English | Bi-annual |
| Social Work Chronicle | English | Annual |
| International Journal of Business Analytics & Intelligence | English | Bi-annual |
| International Journal of Distributed & Cloud Computing | English | Annual |
| Journal of Network & Information Security | English | Bi-annual |
| International Journal of Knowledge based Computer System | English | Annual |
| Journal of Scientific and Technical Research | English | Bi-annual |
| Journal of the Ramanujan Mathematical Society | English | Quarterly |
List of e-book subscriptions:
| Name of the e-books | No. of e-books | Language |
| --- | --- | --- |
| SAA | 4.5 million pages | Various |
List of Bibliographical Database subscriptions:
| Name of bibliographical-database | Language |
| --- | --- |
| MathSciNet | English |
List of e-Magazine subscriptions:
| Name of e-Magazines | Language |
| --- | --- |
| Reader's Digest | English |
| Down To Earth | English |
| Shaastra | English |
| Bhavna | English |
List of e-Library subscriptions:
| Name | Language |
| --- | --- |
| Bori Digital Library | Sanskrit & Bengali |