Vivekdisha – An ICT-Based Network
VIVEKDISHA is an Information and Communication Technology-Based (ICT) Network. The University has the capability to connect twenty five centres for videoconferencing through Broadband facility anywhere at any time on the globe; The centre at RKMVERI, Belur Math is the Expert Centre, while the other centres in West Bengal and Jharkhand are participating centres specially created to address a large number of students and patients. Many participants especially from abroad are joining in their subject of interest to the Vivekdisha online classes from their homes or from their working places.
Inspiration: Swamiji's Vision
"Get every evening a crowd of the poor and low, even the Pariahs, and lecture to them about religion first, and then teach them through the magic lantern and other things, astronomy, geography, etc., in the dialect of the people." – Swami Vivekananda (from a letter to Alasinga Perumal, Chicago)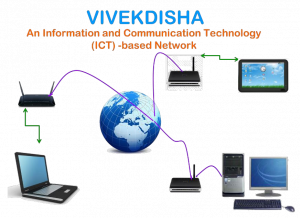 Birth of Vivekdisha:
VIVEKDISHA, a Space- and Information and Communication Technology-Based (ICT) Network, was officially inaugurated by Dr. G. Madhavan Nair, Chairman, ISRO, and Secretary, Department of Space, on 4 July 2008, the Mahasamadhi day of Swami Vivekananda.
Aim:
All-round uplift of the community by bringing technology and knowledge directly to the door steps of the people.
Backbone Connectivity:
Multiple videoconferencing system
Broadband – the connectivity link
Any time anywhere around the globe 25 centres can be connected at a time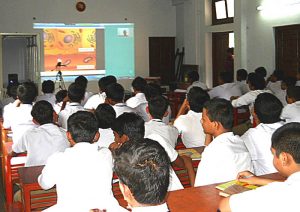 Programmes of Vivekdisha
Online classes through multimedia : From class 6 to graduation
Subjects: Physics, Chemistry, Mathematics, Life Sciences, Communicative English, Computer Science and Value Education
Tele-medicine/health care services to remote places
Spiritual Heritage Programme for international Audience
Youth interaction across various regions
Features of the Programmes run by Vivekdisha:
The following are the special features of programmes conducted by Vivekdisha network, which strives for holistic development:
Space & ICT based
Online and offline education
Need based
Adapted to local communities
Conducted in local language and in English
Carried out within specific time frames
Capable of integrating indigenous knowledge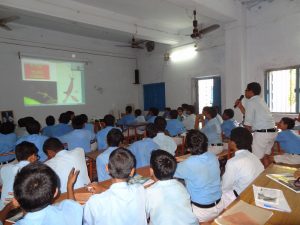 Salient Features of Vivekdisha Online Classes:
Physics, Chemistry, Mathematics, Biology, Computer Science, Value Education and Communicative English for students of Classes six to ten are taught mostly through multimedia presentations i.e. through texts, pictures, animations, real visual clips, and video recordings from laboratory or operation theatres.
a) Classes are held in Bangla, the local language of West Bengal, for the students of Classes six to ten in an interactive mode for the benefit of students of several VIVEKDISHA Centres. In higher classes the medium of instruction is English.
b) In order to make the teaching-learning process not only more effective but also more joyful and fruitful, lessons are imparted mostly through multimedia for which ICT tools like PC, laptop, LCD monitor, camera, digital notepad, projectors, etc. are used.
c) Students are encouraged to interact actively to enable them to gain a proper understanding of the topic under discussion.
d) Teachers from abroad, e.g. the USA, also conduct regular classes for students in various classes.
e) Students are encouraged to ask questions till they gain a proper understanding of the topic under discussion.
f) Teachers from different institutions including colleges and universities are enthusiastically offering their services free of charge.
g) The time table is modified/expanded according to the feedback received from different stakeholders especially students.
h) The technique of tackling questions and the art of writing precise and relevant answers are explained with the help of vivid examples.