Click here for Overall Academic Hierarchy/Structure of RKMVERI (Deemed University) and List of all Schools
The School of Rehabilitation and Sports Science at RKMVERI aims to address two issues of great social relevance in the current educational landscape of India: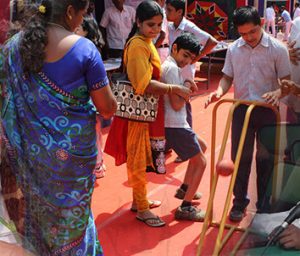 the issue of inclusivity of individuals with various kinds of disability, and
the issue of promoting harmonious physical and mental growth of individuals.
The School consists of three departments spread over two of the campuses of RKMVERI, the Belur (main) campus and the Coimbatore Campus. The Faculty of Disability Management and Special Education (FDMSE) and the Faculty of General Adaptive Physical Education and Yoga (GAPEY), while the Department of Sports Science and Yoga is located at the Belur campus. The three departments have different but complementary and partly-overlapping interests.
FDMSE focuses on the challenge of training persons with disabilities and equipping them with daily living, academic and vocational skills that help them integrate into the society as contributing members. Apart from directly training persons with disabilities, the department works on preparing world-class teachers in Special Education who may thus have a larger impact on addressing the issue of disability management in the country as a whole. The department is endowed with several supporting infrastructural facilities, such as Braille press, orthotic and prosthetic unit, sign language unit, etc.
GAPEY aims to bring about wholesome growth of personality through physical activity and Yoga and also provide adapted physical activities catering to the needs of disabled individuals. The department also strives to maximize the social impact of these initiatives by offering programmes designed to prepare highly trained Adapted Physical Educators and Yoga trainers.
The Department of Sports Science and Yoga seeks to serve the society by enhancing holistic health through physical activity and the practice of Yoga. The department focuses on both teaching and research activities and also strives to assist sports persons in achieving excellence.