The organizational structure of Research and Development Cell of RKMVERI comprising of various committees for specified functions is as follows: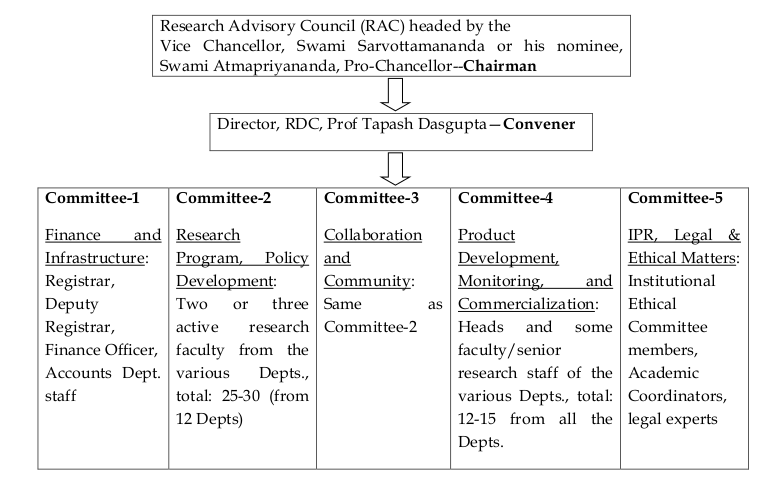 The aim is to:
Ensure functional autonomy, transparency, accountability, adaptability by strengthening interlinkages to create a conducive research environment.
Fostering the human elements (faculty, staff, scholars, and students), logistics (land, buildings, and facilities), knowledge resources (research equipment, project utilities, and consumables), fund flow, etc. through a steady, proficient, effective governance (Rules, Norms, and Policies) and financial (Grants and Funds) management.
Establishing an effective and robust Research Governance in RDC.
Names and contact details of the Director and Nodal officers of R & D Cell:
Director:
Prof. Tapash Dasgupta, Dean, School of Agriculture & Rural Development, RKMVERI
Contact: 033-24772020 (landline),
Nodal Officers:
Prof. Abhijit Chakrabarti, Department of Biomedical Science and Technology, School of Biological Sciences, Narendrapur Campus of RKMVERI,
Contact: 033-24772020 (landline),
Brahmachari Atreya, Assistant Professor, Department of Physics, School of Mathematical Sciences, Belur Campus of RKMVERI
Contact: Brahmachari Atreya, 033-26549999 (landline),