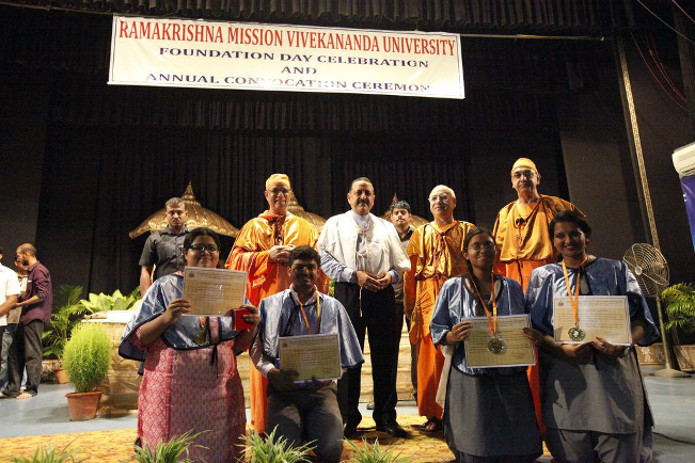 11th Convocation & Annual Foundation Day at Narendrapur Campus – 2 July 2016
The 11th Convocation and Annual Foundation Day Celebration were held on 2nd July 2016 at the the Central Auditorium of Ramakrishna Mission Ashrama, Narendrapur, Kolkata, an 'Off-Campus' Centre of the University. The University's Main campus at Belur, Howrah along with the Narendrapur Campus of the University took part in the event.
Dr. Jitendra Singh, Hon'ble Minister of of State (Independent Charge) for Science and Technology and Earth Sciences, and MoS for Prime Minister Office Personnel, Govt. of India, as the special guest of honor delivered the Convocation Address. Swami Sarvagananda ji, Secretary of Ramakrishna Mission Ashrama, Narendrapur delivered the 'Swami Vivekananda Memorial Address'.
Swami Atmapriyananda and the Honorable Minister awarded the degrees and diplomas to the students at the Convocation.
Some of the photos of the day are given below.