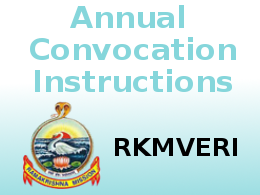 RKMVERI Convocation 2021 – Instructions to graduating students
Award of Degrees / Diplomas during the Annual Convocation Ceremony-2021
~~~
Instructions to the graduating students
(Updated: 04 September 2021, 12:20 pm)
We highly appreciate the presence of the graduating students in the online (mostly) annual convocation ceremony to receive degree/ Diploma on fulfilment of the following requirements.
Dear Student —
Please complete all the academic requirements for the award of degree/Diploma in the convocation. A graduating student has to pass all the examinations and has to submit the his/her thesis/ dissertation/ project (if applicable) as per rule of the University (Faculty Centre /Department).
NO Dues Certificate : Clear all the outstanding dues (Fees dues, Hostel dues, Library dues, departmental dues, etc.) as soon as possible.

Students who can come to campus or those residing at campus:  Download the 'No Dues' certificate get it signed by the Accounts section, Library, Department, Hostel (if applicable). Receive the transcript after submitting the No Dues certificate to the exam-office.
(Applicable for Belur campus) Students who can not come to campus: Due to COVID restrictions some students are not able to come to the campus, so we will try to check any "dues" and prepare the No Dues certificate. Those students who have any dues should duly clear the same as soon as possible and mention what due was cleared in the email sent with Convocation application form.

Please download the Convocation-Application-Form. Fill up the form and Submit the same along with proof of payment (receipt downloaded from ISR student portal), No-Dues certificate, passport-size photograph to the exam-office by email to and
NOTE: If any graduating student wants the Grade sheet(s) plus Transcript to be sent by Post in one single post along with the Convocation certificate then please mention this in the email while sending the convocation-application-form. Postal charges are Rs.100/- only.
Convocation Fee: Rs.500/- to be paid online through the ISR Student portal (if Convocation fees payment link is not yet available, it will be enabled in a few days, so check regularly).
If any graduating student wants the Graduation certificate to be sent by post ONLY then pay the other fee titled 'Postal charges for dispatch of Graduation certificate' of Rs. 100/-
Last date of submission of the completed convocation application form: 09 September 2021 (without late fine), after 9 September 2021 late fine of Rs.200/- would be charged (extra)
Due to Covid lockdown restrictions, the Ph.D. Scholars, M.Phil. Scholars, and Gold Medallist (Bachelors' and Masters' degrees) are only allowed to receive degrees in-person at Belur and the rest of the candidates will receive the degree/diploma online.
The date, time and venue of convocation: The 2021- Annual convocation to be held in blended mode (online and offline) on 11 September 2021 at 3.00 pm at Saradananda Hall (Prajna Bhavan), Belur. The Livestream link to be provided on our University website. Those who would be present offline have to maintain the Covid-safety protocols.
The candidates who are joining offline they have to put on the convocation-gowns-(dress) 30 minutes before the convocation ceremony begins.
Regarding Caution Deposit settlement (only Belur Campus students):
All graduating students should download the caution-deposit-settlement-form, duly fill it up, take a scan copy and send it by email to: Accounts Dept.( )