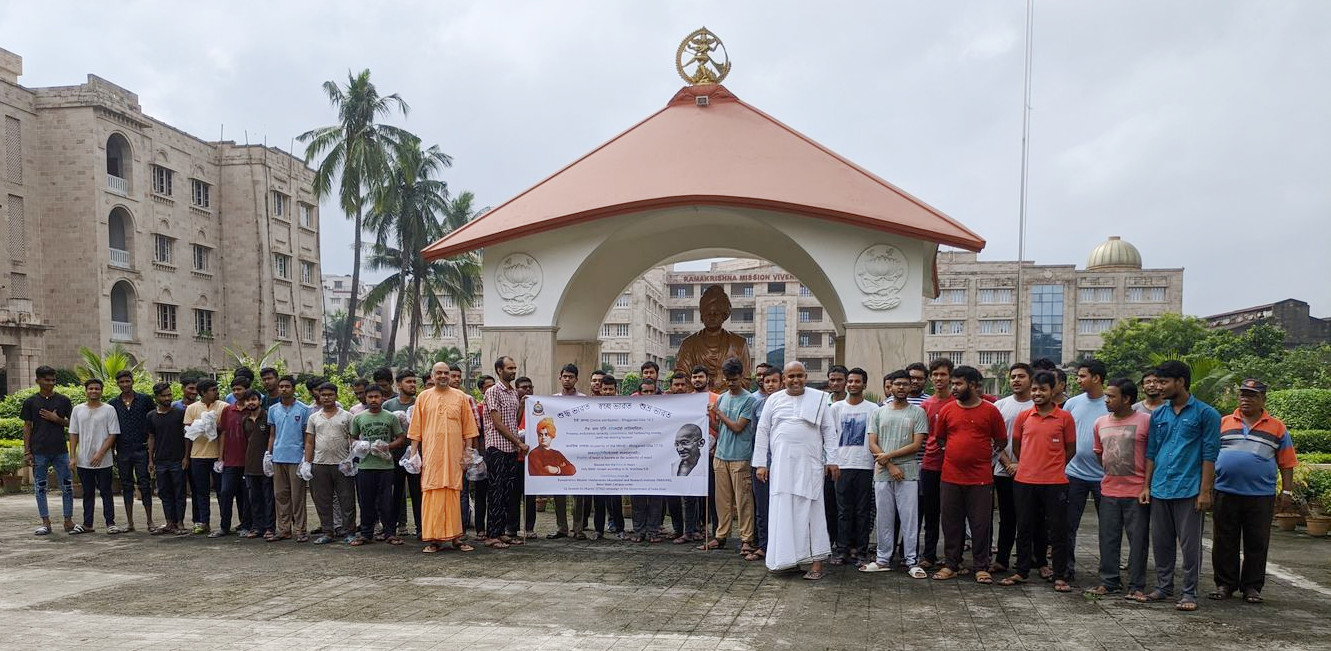 Report on 'Ek Tareekh Ek Ghanta' (ETEG) under Swacchata Hi Seva Campaign as ordained by UGC – 01 Oct 2023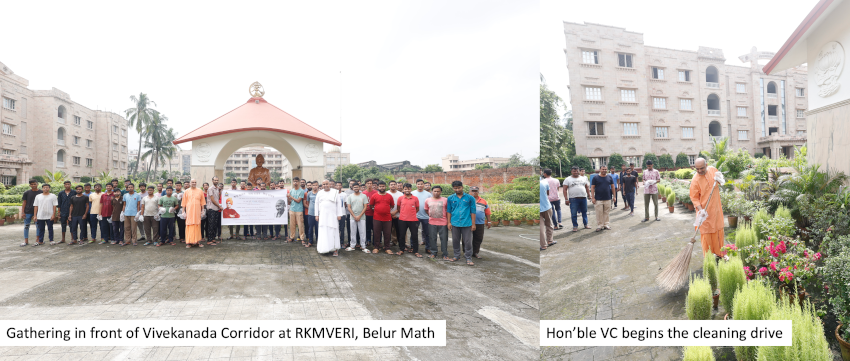 Date: 1st October 2023
Time: 10:00 hrs
Venue: Ramakrishna Mission Vivekananda Educational and Research Institute (RKMVERI), Belur Math Campus, PO Belur Math, Dist Howrah 711202, West Bengal, India
A cleanliness drive was organized on 1st October 2023 as part of 'Ek Tareekh Ek Ghanta' (ETEG) under Swacchata Hi Seva Campaign by the Government of India, promoted by the University Grants Commission (UGC) to foster cleanliness and hygiene in our community. The event aimed to raise awareness about the importance of a clean environment and encourage active participation from University members. This report provides a comprehensive overview of the cleanliness drive, including its objectives, activities, outcomes, and future recommendations.
Objectives:
To create awareness about the significance of cleanliness and hygiene.
To engage community members in cleaning and beautifying public spaces.
To promote a sense of responsibility among individuals for maintaining a clean environment.
To foster a sense of community unity and cooperation.
Participants: Students, faculties, staff and monastics of RKMVERI~50 in number.
Chief Guest: Swami Sarvottamananda, hon'ble Vice Chancellor of RKMVERI.
Activities:
Preparatory promotion of the event through flyers, social media, and word of mouth.
Collection of necessary cleaning supplies and equipment as kindly provided by RKMVERI administration.
Breakfast packets were distributed amongst all the participants.
Swami Sarvottamananda, hon'ble Vice Chancellor of RKMVERI kickstarted the cleaning drive by himself brooming the Vivekananda corridor at 10:00 am.
Clean-up Activities:
Participants gathered at the Ramakrishna Mission Vivekananda Educational and Research Institute (RKMVERI), Belur Math campus meeting point in front of Vivekananda Corridor at 09:30 hrs early in the morning. The cleaning activity began at 10:00 am.
The clean-up area included Vivekananda Corridor of RKMVERI, Belur Math Bus Stand and Parking area. Geographical Indicator (GI) tagged photographs were taken to mark the event.
Volunteers were divided into teams and provided with gloves, trash bags, brooms, and other cleaning tools. Participants diligently picked up litter, swept streets, and removed graffiti.
Post-Clean-up Activities:
Collected trash was segregated for recycling and proper disposal. Thereafter the trash was disposed in municipality designated waste collection counters.
Outcomes:
Community Participation: The cleanliness drive saw active participation from a diverse group of community members, including faculties, students, staffs, and administrative heads.
Cleaned Areas: The targeted areas experienced a noticeable improvement in cleanliness and aesthetics, contributing to a better living environment.
Awareness: The awareness sessions effectively educated participants about the importance of cleanliness and the need for responsible waste disposal.
Sense of Unity: The event fostered a sense of unity and shared responsibility among participants, reinforcing the importance of community involvement.
The cleanliness drive was a resounding success, achieving its objectives of raising awareness, engaging the community, and improving the cleanliness of public spaces. It demonstrated the potential for positive change when communities come together for a common cause. With continued efforts and collaboration, we can ensure a cleaner, healthier, and more vibrant community for all.
Below are some photos.